Tanya Chalupa believes in hard work, persistence, and love at first sight.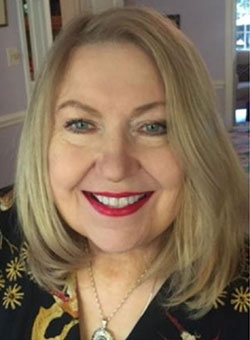 She and her husband Leo met when they were teenagers and are still married more than fifty-three years later. She was born in post-war Germany and arrived as a child in New York City with her parents, who escaped from the former Soviet Union, seeking political asylum in the United States. The family first settled in lower east side Manhattan and later moved to the South Bronx.
An adventurer at heart, Tanya had three different careers during her adult years. The first was as an art history instructor for a local community college. During her middle years she became an advocate for children's safety. And that experience unexpectedly morphed into her writing true crime and subsequently crime fiction. Growing up, Tanya didn't envision running organizations or taking on life changing challenges. After her husband completed his Ph.D., they moved to California, first living in Los Angles and then moving up north to Davis, near Sacramento. While traveling through Italian Alps under bad weather conditions, she and her husband were in an accident where their car was totaled – they suffered minor injuries. But their toddler, Alexandra, who was strapped in a car safety seat, was unhurt. It was the happiest moment of her life and Tanya wanted to share it with others. When she and Leo returned to California, Tanya became involved in advocacy, becoming the sponsor and force behind California's Child Seat Restraint Law as well as other measures protecting children. While in the midst of lobbying for the car seat bill, and pregnant with Andrea, a second daughter, her mother with whom she was close, died of meningitis. What kept her going was recalling the moment when her first-born daughter was saved by a car seat. After the car seat law was passed, members of a federal and state agency invited Tanya to apply for federally funded grants. This funding enabled Tanya to develop and administer a number of statewide grants to promote traffic safety in children and young adults. These programs brought in millions of dollars to communities across California, and more importantly resulted in countless number of saved lives. Her efforts were recognized by a Public Service Award from the National Highway Administration and the Peter O'Rourke Special Achievement Award from the National Association of Governor's Safety Representatives.
Tanya moved into crime writing when a murder of a homeless vet in Albany, California, where she was running a bay area traffic safety program, led to the capture of Robert Joseph Silveria, Jr. – The Box Car Serial Killer. His arrest exposed an underground railroad organization that police departments didn't know existed. Accompanied by her research partner, Detective Sergeant Bill "Elvis the Lawman" Palmini, who was also one of the investigators, she stepped into dangerous territories to interview killers, gang members, and others in the underworld, to achieve a deeper understanding of the cases she wrote about. She also corresponded with Robert Silveria, who helped her resolve a murder the police were in disagreement over. Her second book, A Rookie Cop Vs. The West Coast Mafia, is based on a high-profile case Palmini had when he was a young detective. Her recently published first fiction book, East Bay Murders, is based on Charles Junior Jackson, a serial killer who left his brutal mark in Albany and surrounding San Francisco East Bay cities. The hero of the book Jack Franko, is a young Ukrainian American assistant district attorney, who is initially accused of committing the murders carried out by the serial killer. The hero of the book, Jack Franko, is a young Ukrainian American assistant district attorney, who is initially accused of committing the murders carried out by the serial killer.  It is anticipated that East Bay Murders is the first of a series that will feature Jack Franko, in his pursuit of truth, justice and the American way!